Art On All Angles
She alights from the bodaboda (Swahili word for a motorbike). She smiles, albeit held back. Everything about her is artistic. I know every artist has that thing that boldly writes and highlights "ARTSY" on their forehead. However, hers is different. You kind of look for it and kind of just see it.
It could be the way she is not only extravagantly deepened in dark chocolate but also the creator added a velvet spray on her skin for a final touch. Could it be because she wore all black? Making her shoulder-length dangling earring pop its brighter colors? Her hair was chanting "Mama Africa!" from how she styled it and her choice of braids.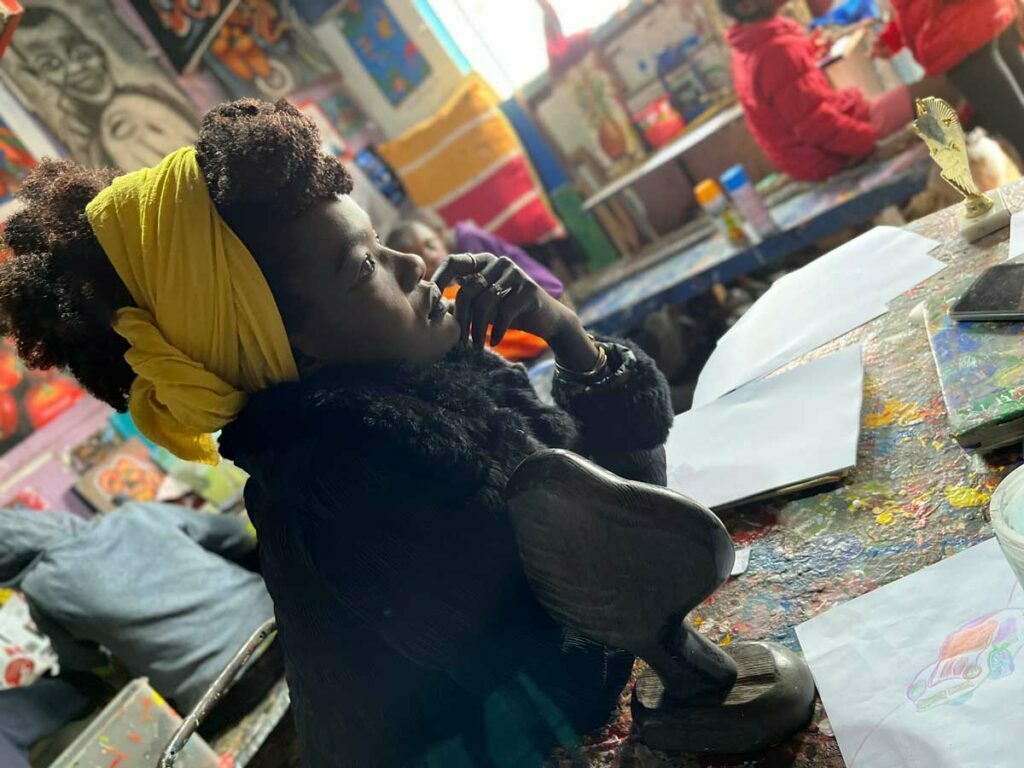 "Sorry, I am late." she apologizes. I am slowly learning to double the time set by Kenyans. African timing is what they call it. "Ooh, I understand you were coming from Mombasa." I joke. We laugh as she invites us to the place where the inspiration bulb is ignited and the fires of effort flicker to welcome the grand inferno of ideas whose time has come. 
"My name is Faith Atieno," she begins. She lights up when she mentions her nickname Chinda Agulu (to mean soot on a pot cooked on the traditional three-stoned stove) whose aim was to instigate her. To their loss, Faith embraced the name and thought of having it as a stage name. Call it the black girl magic. It is like whiskey is a teacup.
Her beam brightens as she further narrates her background. To many, it is usually a point of realization of how far they have come. She narrates how she started by making dolls in primary school and having exceptionally fantastic drawings in her biology class in high school.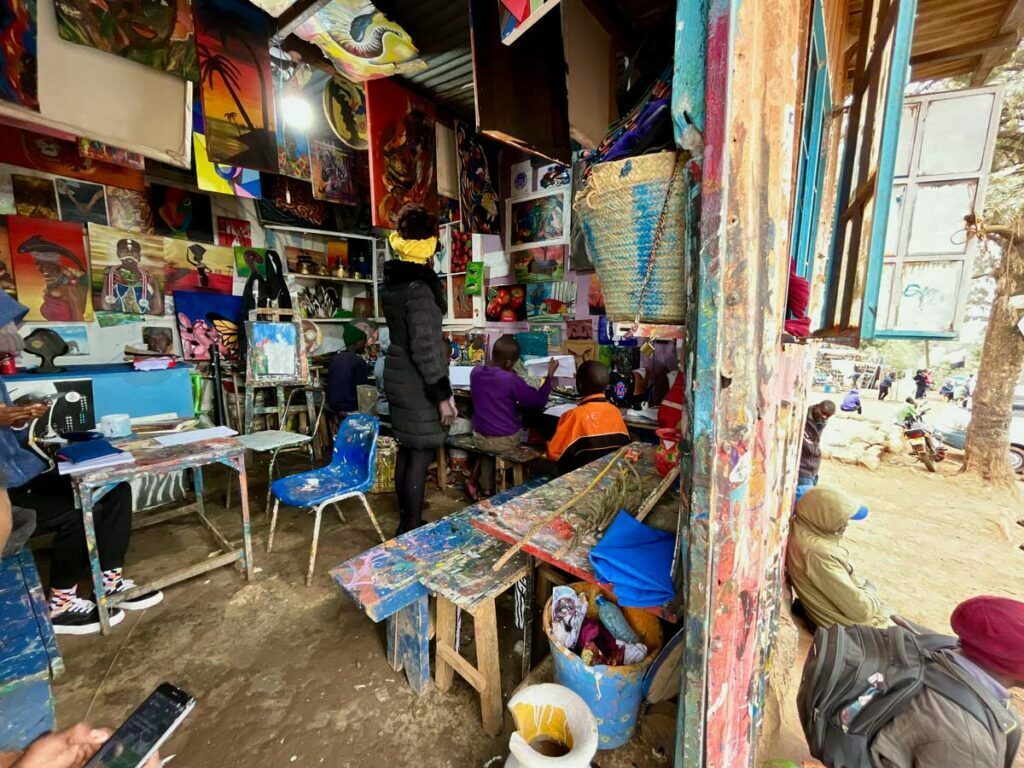 The biology teacher tapped into the talent by starting The Skills Club. As the patron, he would encourage the artists to create and later market their products to the guests as that was a missionary school. This inspired her to work harder as it fruited money for the necessities like sanitary towels and extra pocket money.
Upon completing high school she joins a gallery in Kibera called Maasai Mbili where she learns how to paint on canvas. It is at this point that she realizes that it could be a career. She gets her first formal employment in the managerial position at the Uweza Foundation where she oversees the empowerment of children by developing their discovered abilities and talents. More experience is gained as she is employed at different organizations before she starts her own. She describes it as a space where she creates her vibe with no supervision and no limitations. Her manumit, in art, we can call it. Other people joined her as she was receptive. Now she has leaders, children who she mentors, and a place for the youth to grow their minds.
"Art360Kibera is called 360 because its arts on all angles. The artists here are not confined to canvas, they are instead liberated to have it on boards, bottles, paper, and wherever else they are inspired to create the art. The manumit in creativity. We are embracing eco-creation as we recycle the materials." She narrates. She further adds that they also support other forms of art other than abstract art. 
Her greatest achievement would be getting the international standard in Denmark. She has earned Art360Kibera two awards signified by the trophies. One was given out by The Kibera Community Emergency Response Team that was feeding the residents in the slum during covid. They bumped into each other when Art360Kibera was created and arts to trigger and combat the spread of Covid-19. The other one is woody. Black in color. Awarded by the Women in Concern Worldwide who were appreciating the work they have done in the slums. She would caress that trophy till the interview comes to an end.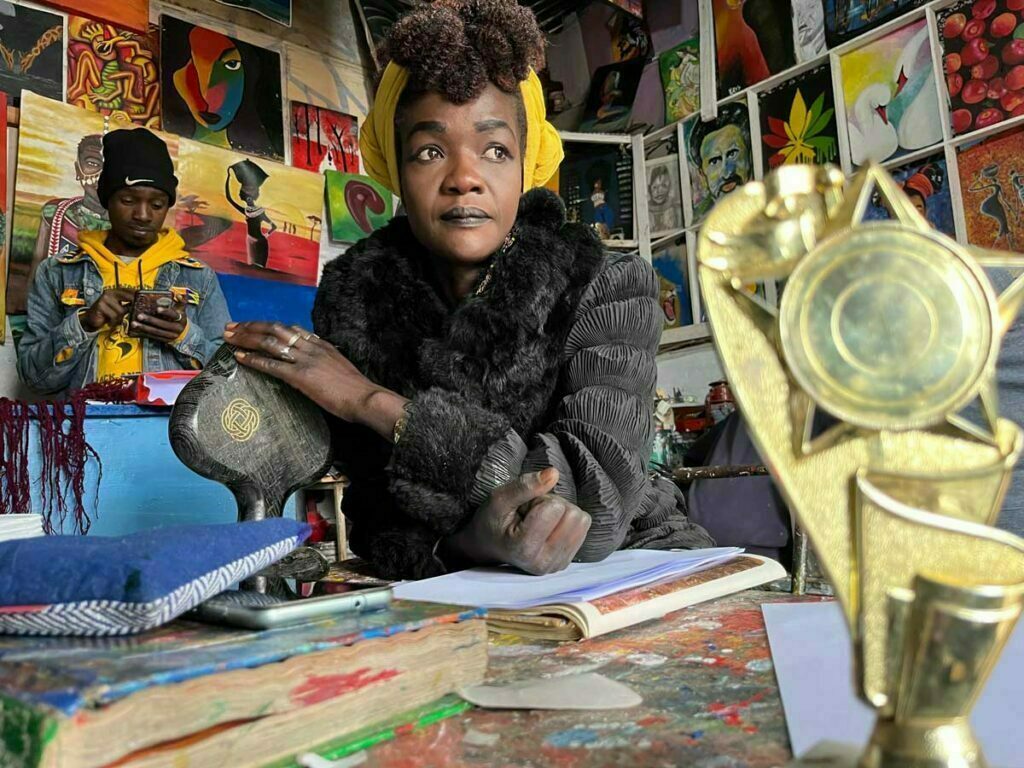 Her most liked piece is one on a rustic board. The board had come to terms with the end of life and was therefore rotting in peace then Faith saw beauty, the unseen beauty, in it. She gave it a second chance. She gave it purpose and face beat it deserves. Now, it is in the gallery admired by some who could not dare touch it before. Since she prefers creating art when there is quiet, the company of her cohort motivates her.
"Do you have children?" She laughs then while smiling she says, "I have a nine-year-old daughter." "Does she like arts?" "Well, she would admire them from time to time and try to create when she sees me creating. However, she is active. She would, therefore, prefer to energetically ride her bike." She emphasizes how supporting her daughter in whatever she decides to pursue is one of the most important roles she could play as a mother.
Creating a big institution of art from all angles in Kibera with a big space or auditorium for showcasing and performances to the local, national, and international guests. The institute would have different classes for different types of arts. The ship voyaging to that vision has already set sail. Faith is one of the members of the Foundation of Hope Kibera where they target the youth and unleash the potentials that were previously banked under the bed. Foundation of Hope is majorly focusing on dance.
Faith is also one of the founders of Kibera Art Institute where they teach the children the concepts of art. Since art is, unfortunately, less appreciated in Kenya and even less in the slums, there is no bridge between the children and the artists. Should their piece sell the organizations take 30%. Otherwise, there is no fee charged to the parents.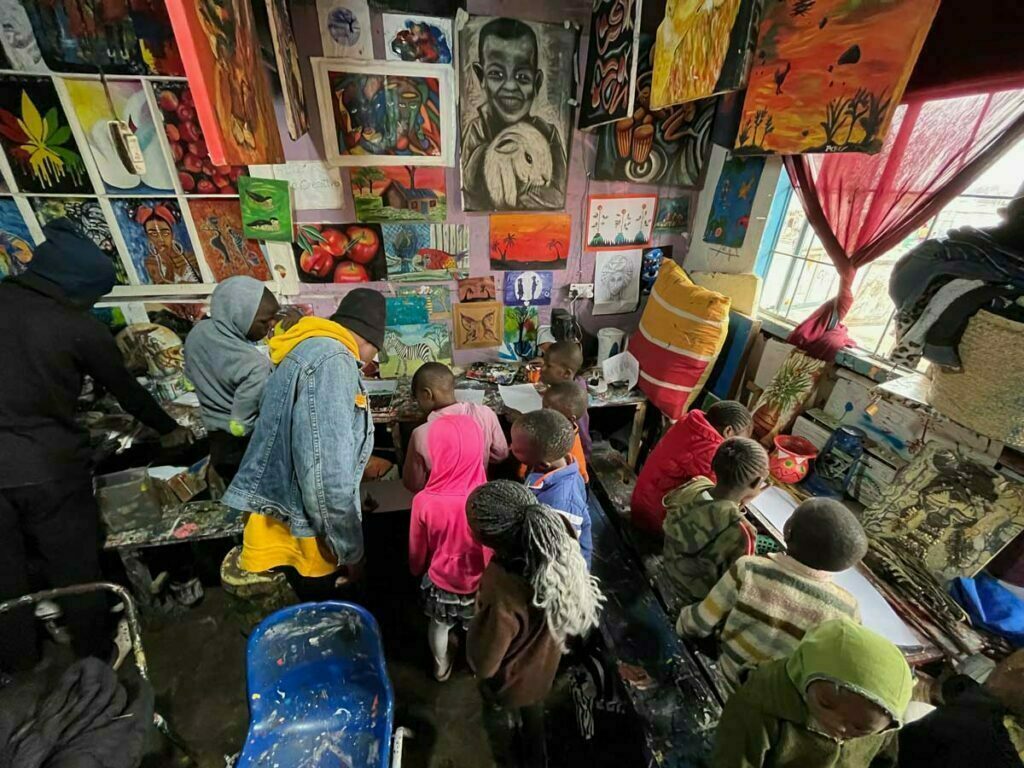 The three recently collaborated in hosting the Peace Is My Piece event that involved creatively spreading peaceful messages as Kenya's head for elections. The pieces were murals, dances, photography, traditional music, and raps from the children. We wish Kenyans a peaceful post-election ambiance.